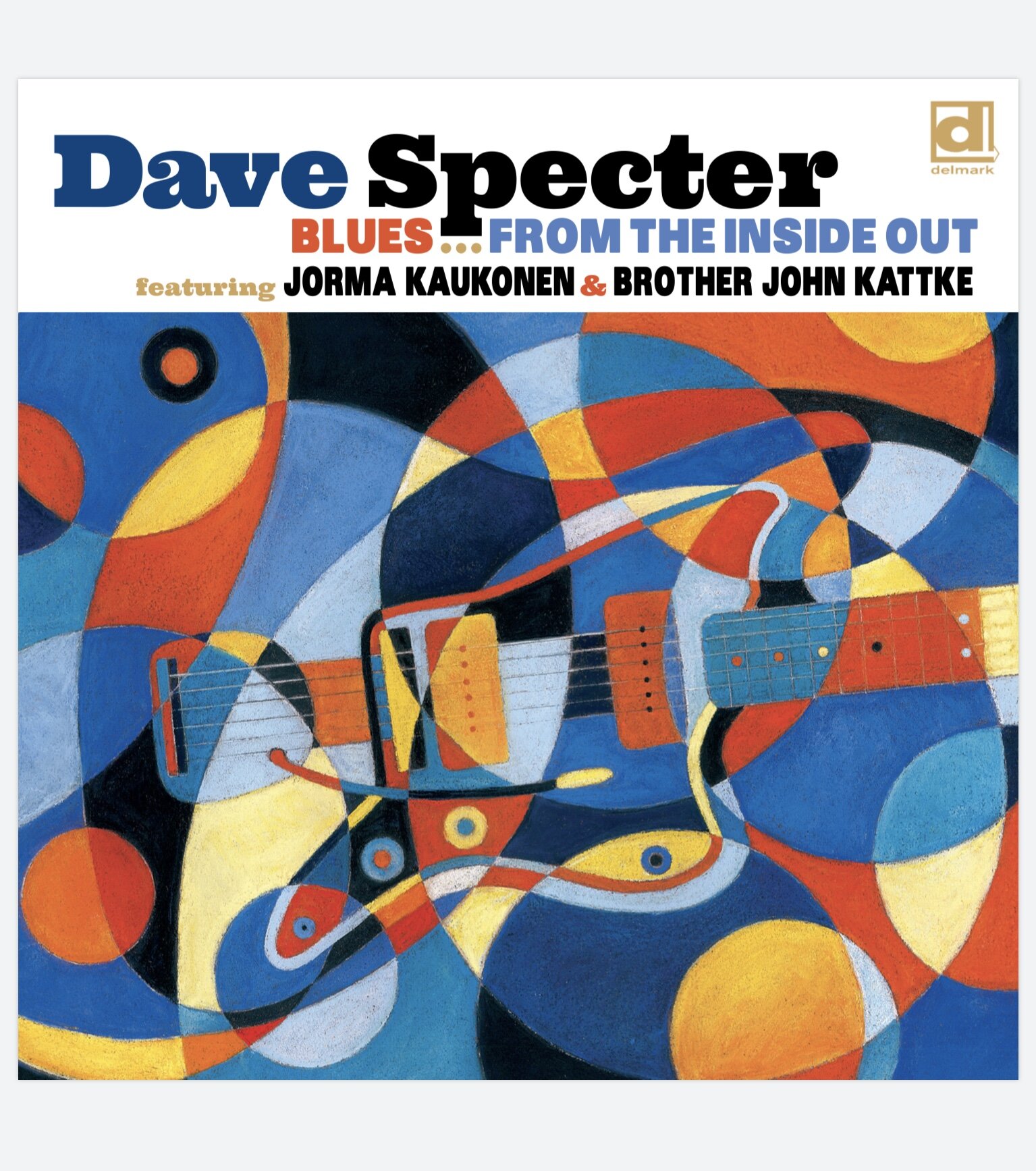 BLUES FROM THE INSIDE OUT:
CD & LP
Blues From The Inside Out is the most expressive project of Dave Specter's 35-year career. Featuring his debut as a vocalist, the album is an exciting and timely celebration of blues, soul, jazz, funk and gospel. These are fine times to hear Specter, an evolving artist who embraces growth and discovery.
Blues From The Inside Out includes a guest appearance on guitar by Jorma Kaukonen of Jefferson Airplane/Hot Tuna fame, who also co-wrote one of the album's 12 original tunes. Specter wrote the uplifting soul anthem for change "March Through the Darkness," he takes a deep dive into Meters-Neville Brothers inspired rhythms with the instrumental "Sanctifunkious" and sings on the blues shuffle title track. Besides Kaukonen, Specter recruited the Chicago-based Liquid Soul horns and Latin-percussion ace Ruben Alvarez, each playing on three tracks.
Dave Specter's 10th album, Message in Blue, is a soulful and compelling blend of Specter's original instrumentals along with powerful blues/R&B vocals. Soul legend Otis Clay makes his Delmark debut as special guest on three songs including a re-make of the classic "Got To Find A Way" with Willie Henderson and the Chicago Horns, The Falcons' "I Found A Love" (complete with Specter nod to Robert Ward playing through a Magnatone amplifier) and a tribute to the late Bobby "Blue" Bland, "This Time I'm Gone For Good". Brother John Kattke is on keyboards and vocals while harp ace Bob Corritore guests on two Specter originals. From tough and tone-full Chicago blues guitar to soul-jazz grooves and funky R&B, Message in Blue is sure to satisfy!
Spectified is the ninth studio release from Chicago bluesman Dave Specter. This album showcases soulful originals infused with 3 classic blues favorites. Featuring special guest David Hidalgo from Los Lobos on Rumba & Tonic as well as The Bo' Weavil Brass on 4 tracks led by former Tower of Power trumpet man, Mike Cichowicz. Brother John Kattke and Pete Benson share the keyboard chair, with the rock solid rhythm section of Harlan Terson and Greg Wyser-Pratte laying down the grooves - thick and blue. Latin percussionist Victor Garcia also makes a guest appearance on two tracks.
DAVE SPECTER LIVE IN CHICAGO: CD & DVD
Recorded live at Buddy Guy's Legends and Rosa's Blues Lounge, Live In Chicago features special guests Jimmy Johnson, Tad Robinson and Sharon Lewis. The CD contains four instrumentals and two songs by each of the guest vocalists, while the DVD has three vocals by each.
Dave Specter and Steve Freund have been personal and musical friends for many years. Guitarist Dave Specter has always straddled the blues/ jazz fence with a hip disregard for arbitrary restrictions. Once again Dave has put his distinctive mark on a collection of outstanding instrumentals from all corners of blues and its related genres. The result will please all lovers of lean, inspired guitar work. Is What It Is brings the two guitarists together for a smokin' blues date that has a perfect balance of Steve's heartfelt vocals on his new original songs and Dave's instrumentals, including "People Get Ready", "While My Guitar Gently Weeps", "Albatross", and more Specter and Freund originals.
Dave Specter and Barkin' Bill Smith will be unfamiliar names to most listeners (as of the release of this album). But the music the two of them generate along with Ronnie Earl, Deitra Farr, and the Bluebirds is a lot of blues, and its contributors all deserve the notice and enjoyment which this set should bring to the creators and listeners respectively
If all of the up-and-coming blues guitarists in these fifty states were for form a line according to their worth as skilled and articulate musicians, Dave Specter would stand tall and near the front. Never prone to grandstanding, he communicates an inherent sense of style and form, subtlety and swing, keeping his magnetic needle always fixed on a steady, unalterable course. Joining him on this CD is Tad Robinson, an eight-year veteran of the Chicago blues scene and an uncommonly perceptive songwriter and striking vocalist.
Guitarist Dave Specter has as much funky sweetness in his soul as anyone in town, but it's the sweet side that comes through most in his playing. Like his idols T-Bone Walker and B.B. King, Dave finds the tender heart behind even the most down-and-dirty blues sentiments. Tad Robinson's harmonica playing likewise shows a harmonica and melodic sophistication that recalls the instrument's great innovators.
The Chicago guitarist's Left Turn On Blue takes him right to the intersection of blues and jazz; specifically, Specter crosses the line between modern blues and the vintage jazz of the 40s, 50s, and 60s, returning to a musical philosophy in which the two idioms stood across from each other on a quite narrow street.
Guitarist Dave Specter has always had good singers with him on his Delmark albums and Blues Spoken Here introduces Lenny Lynn. Similar to a previous Specter cohort Barkin' Bill, Lynn has been influenced by Joe Williams (the one who sang with Count Basie) and Brook Benton. Their voices all have that deep, warm sound and Lenny also has that jazz sensibility apparent on the tracks "Listen Here" and "Moanin'". With four albums of his own, tenor saxophonist Eric Alexander is Delmark's most popular jazz artist. He's featured here on four tracks and knows Lenny from his early days of professional playing — Lenny actually gave Eric his first gig! This one is hot off the presses; both the studio performances and the two live tracks from Buddy Guy's Legends blues club were recorded the last week of January, '98.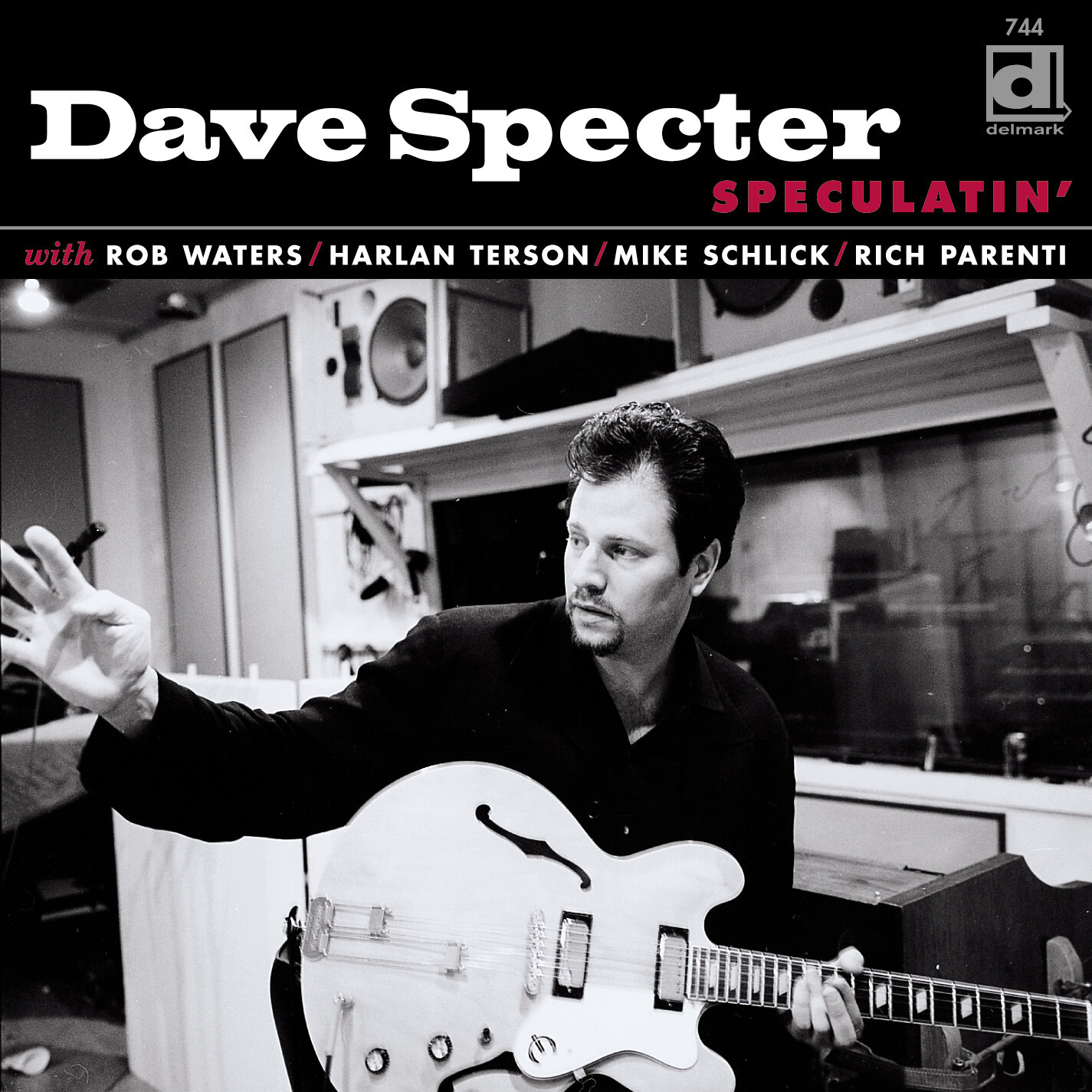 Guitarist Dave Specter has always straddled the blues-jazz fence with a hip disregard for arbitrary restrictions. On Speculatin', his sixth Delmark CD, Dave has put his distinctive mark on a collection of outstanding instrumental tunes from all corners of these related genres, tossing in a latin beat and some greasy organ in addition to his unmistakable West Side and Texas-inspired blues licks. The result will please all lovers of lean, inspired guitar work and will astound the blues buyer who previously considered instrumentals to be mere CD filler. Speculatin' features nine original compositions and covers of tunes by Charles Earland, The Meters, Dizzy Gillespie and Junior Walker. Dave is accompanied by his working band of Rob Waters, Hammond B3 organ; Harlan Terson, bass; Mike Schlick, drums; and Rich Parenti, tenor sax.
Otis Clay graced the stage at SPACE many times over the years, performing a number of unforgettable shows with his wonderful stage presence, deep soul intensity and great bands. He passed away suddenly in January 2016 and we've been working hard at the SPACE recording studios this year on a tribute in his memory. The tribute single features 21 musicians including many who performed and recorded with Otis.
FEATURED ON…
Dave Specter has recorded with some of the preeminent blues and jazz players in the world. He appears on compilation CDs with artists such as Eric Clapton, Carlos Santana, Muddy Waters and B.B. King. He's won awards for production and his signature skills can be heard from the production booth to the studio and live stages from Chicago to Europe.
"It Ain't Over" - CD/DVD Delmark Records 55th Anniversary Concert recorded live at Buddy Guy's Legends Chicago

"The Great Muddy Waters and Friends" - 3 CD set featuring Dave Specter, Junior Wells, Luther Allison, Louis Myers, Tad Robinson. Black Cat Records.

"Fortune Tellin' Man" - Jesse Fortune.

Delmark 40th Anniversary Blues - Compilation with Magic Sam, Junior Wells, Little Walter, Big Joe Williams, and others

Heartaches and Pain - Carey Bell

One to Infinity - Tad Robinson

Midnight Blues - Compilation with Junior Wells, Magic Sam, Little Walter, Luther Allison, and Louis Myers

The Blues Box - 5 CD box set with Otis Rush, Big Walter Horton, Magic Sam, Little Walter, and others

Wild Cards - With Al Miller, Willie Kent, Tad Robinson. Produced by Dave Specter.

700 Blues - Lurrie Bell's second album. Dave Specter produced the album, and added guitar on two tracks.

Midnight Blues - Compilation with Junior Wells, Magic Sam, Little Walter, Luther Allison, and Louis Myers

The Blues Box - 5 CD box set with Otis Rush, Big Walter Horton, Magic Sam, Little Walter, and others.

West Side Baby - Floyd McDaniel. Produced by Dave Specter.

Blues Guitar Greats - Compilation with Eric Clapton, Carlos Santana, Mike Bloomfield, Otis Rush and others.

Kiss of Sweet Blues - Featuring Lurrie Bell and Nominated for Independent Blues Record of the Year by AFIM (Association for Independent Music).

Chicago Blues Tour - With Buddy Guy, Koko Taylor, Otis Rush and many others.

Delmark 45th Anniversary Blues and Jazz - with Junior Wells, Mighty Joe Young, Dave Specter, and others.

Good Blues To You - Aron Burton's new CD on Delmark with Billy Branch, Larry Burton, Lurrie Bell.

Blues Guitar Heaven Vol. 2 - With Eric Clapton, Carlos Santana, B.B. King and many others. Features Dave's song "Bluebird Blues."

"C" for Chicago - Steve Freund with Boz Scaggs, Kim Wilson, David Maxwell. Produced by Dave Specter.

This is the Blues Harmonica - w/ Junior Wells, Carey Bell, Little Walter, Big Walter Horton, Louis Myers, Billy Branch

In Between Time - Al Miller's album, with Billy Flynn & John Primer Produced by Dave Specter

I'll Be Your Mule - Steve Freund with Mr. B, Bob Stroger, Steve Guyger, Harlan Terson, Kenny Smith, Pete Crawford, Dave Clark, Clark Dean. Produced by Dave Specter

Ghosts & Angels - Sandy Andina's debut singer/songwriter CD, features Corky Siegel, Frank Donaldson, and others. Dave plays guitar on the track "Pass The Bottle."

It Ain't Over - Delmark 55th anniversary CD/DVD - Featuring Dave Specter and many other Delmark Recording Artists. Winner of BMA for Best Blues DVD.

Going Back To Mississippi - Nora Jean Bruso.

Ship of Chocolate Chips - Joel Frankel

Blues Cannon - Dave Hannon & Band.

South Shore - Billy Seward featuring Jimmy Johnson, Willie Henderson. Produced by Dave Specter

Soul Burnin' - Lil' Red and the Rooster. Produced by Dave Specter

Cab Driving Man - Mississippi Heat

Travelin' Woman - Mary Lane

Tribute - Delmark Records 65th Anniversary CD/LP